Daijiworld Media Network – Kasargod (SP)
Kasargod, Jul 6: At a time when huge amount of wealth is being uncovered from the cellars of Lord Ananta Padmanabha Swamy Temple in Thiruvananthapuram, the temple in Anantapur near Kumble, from which the temple in the state capital originated from, continues to remain away from the glare of the media and outside world.
As per mythology, an ascetic named Bilvamangala Swamy built the temple at Anantapura. He was assisted by a boy in the task. On an occasion, fed up by the naughtiness of the boy, the Swamy pushed him hard with his left hand. It is said that the spot where the boy fell down turned into a cave and the boy vanished from the spot. A voice from the heaven directed the Swamy to visit Thiruvananthapuram, if he was keen on meeting the boy again.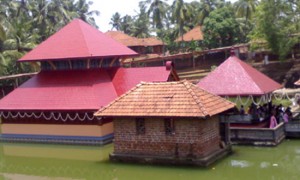 The hermit, who realized that his helper was in fact, Lord Mahavishnu in human form, went into the cave and started to tread through its depths, and reached Anantakadu, where he found the boy. The boy, who was very hungry then, was fed raw mango by Bilvamangala Swamy in coconut shell. It is believed that Lord Ananta Padmanabha Swamy temple in Thiruvananthapuram was built at the place where the boy was spotted.
The Anantapur temple was recently renovated with the help of devotees. In 2008, a new idol of Lord Ananta Padmanabha Swamy, painstakingly created by sculptors from Kottayam district in 'Kadusharkara' method by toiling for seven years, was consecrated here. The temple, which comes under Malabar Devaswom Board, has small means, and is mainly funded by the devotees.
About a decade ago, the officials of the archaeological department and the district collector had jointly conducted an inspection of the cave, following rumours that enormous wealth is hidden there. They did not get anything then. The devotees here believe that this temple also may be having huge hidden treasure like the temple in the state capital, and that the same can be used to make the temple grander, and to provide additional facilities at the temple.